Rocío Pena Romero is a Junior Illustrator and Concept Artist from Spain, that has been in love with videogames and animation from childhood.
Rocío finished an engineering degree, but art was her true calling, which led her to her studies at Lightbox Academy. She been drawing and painting traditionally since she was a kid, and is now focusing on her digital skills to improve and grow as an artist.
---
The Journey
What's your current role and what does it involve?
I'm currently looking for my first job as a professional concept artist and I am currently interviewing. Please hire me soon!
Where do you work, and what type of projects are they involved with?
I've taken part in an animation project at my school, Lightbox Academy. Every year the school and the students of all disciplines join forces to produce a pro-level short film. This is really exciting as the school was founded by Lightbox Animation Studios and has already received an award for these works.
Besides, I have recently finished collaborating as lead concept artist on a demo developed by indie videogame studio TreegamesStudios. This is their first self-produced project called Project-R and will become a full videogame if it receives enough support on Kickstarter!
When did you first realise you wanted to work in this industry?
When I was finishing my engineering studies at University I felt like I was missing a very important piece of me as I had no time at all for art. I was always the kid that drew on her notes during lessons at school and constantly had my nose in a book or in front of a screen growing up.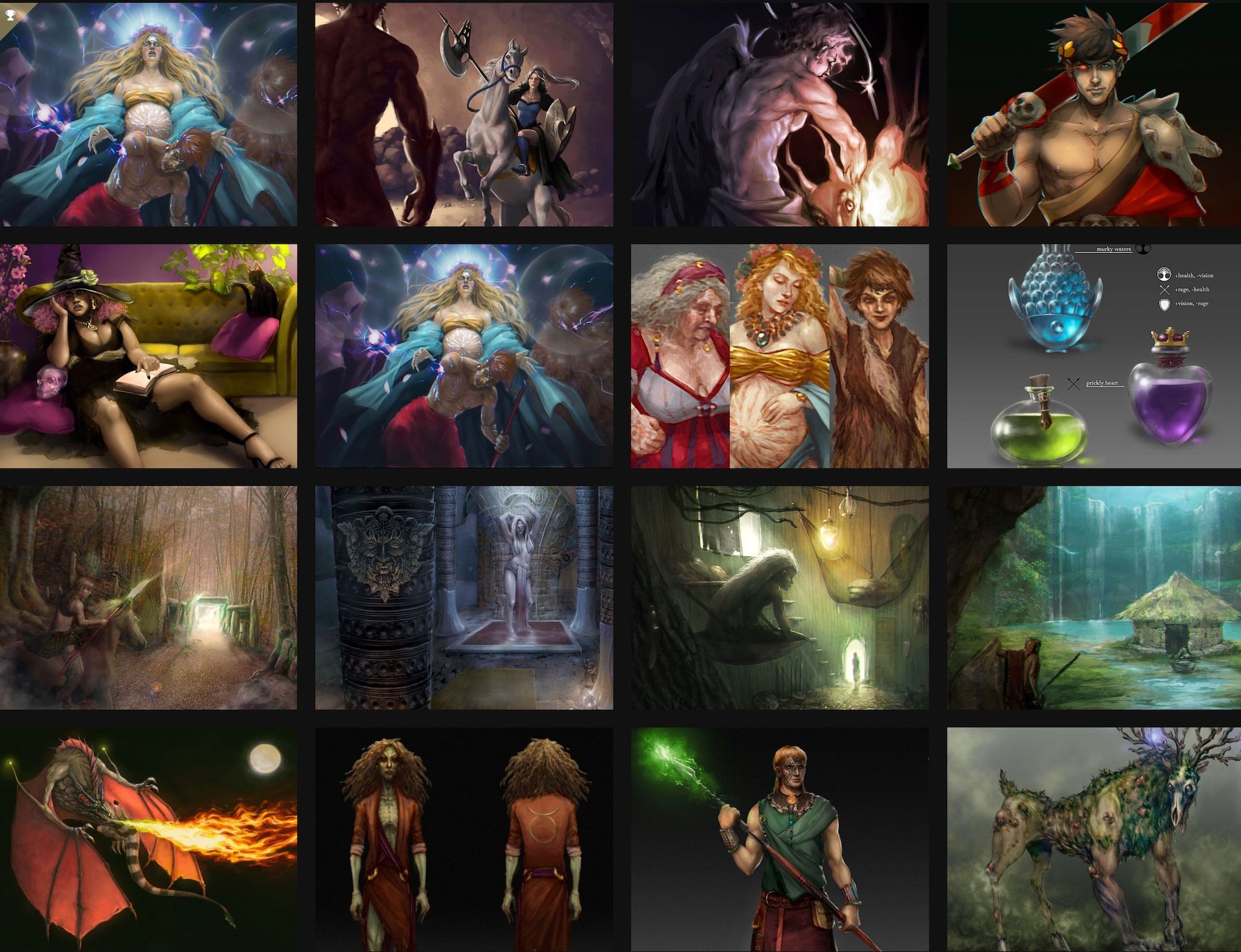 I investigated further on what exactly I loved so much about those videogames and films and fell in love with concept art. Since then, I've dreamt of working on visual world-building full time.
How did you get your first big break?
It was an honour for me to receive the 2022 Lightbox Academy Tadeo de Oro, an excellence award for best concept art/illustration work, on my graduation day. Receiving that public shout out and feeling the support of my schoolmates has helped me a lot to keep up with the hard work. In an industry where visibility is key, I am sure it will open a lot of promising possibilities for my career as an artist.
Describe the journey you took into your current role?
Even though I am just beginning my journey as an artist, it feels like an old struggle. It was difficult for me to choose this path as a lot of people around me warned me about the difficulties of pursuing art professionally.
For those that are seriously considering a career in the creative industries, please be aware that you have to be proactive and bit stubborn when looking for opportunities, and humble and hard-working when it comes to everything else.
If you have the love and determination to keep at it, you will undoubtedly keep improving your skills like I have. Be patient and focus on progress instead of a on single goal!
Why did you choose to study at Lightbox Academy?
After a six-month stay in Montreal where I had my first lessons in digital art and concept art, I fell in love with it but quickly realised that I had a long journey ahead of me if I wanted to become a pro. During lockdown I kept practicing on my own and applying to schools abroad, which were the only ones I knew of back then. Sadly, I got rejected every single time, as competition was fierce to enter some of these places and I was still quite new when it came to concept.
I knew education would help if I wanted to improve quickly, so I started looking for schools near me that could offer concept design classes; this is how I found Lightbox Academy.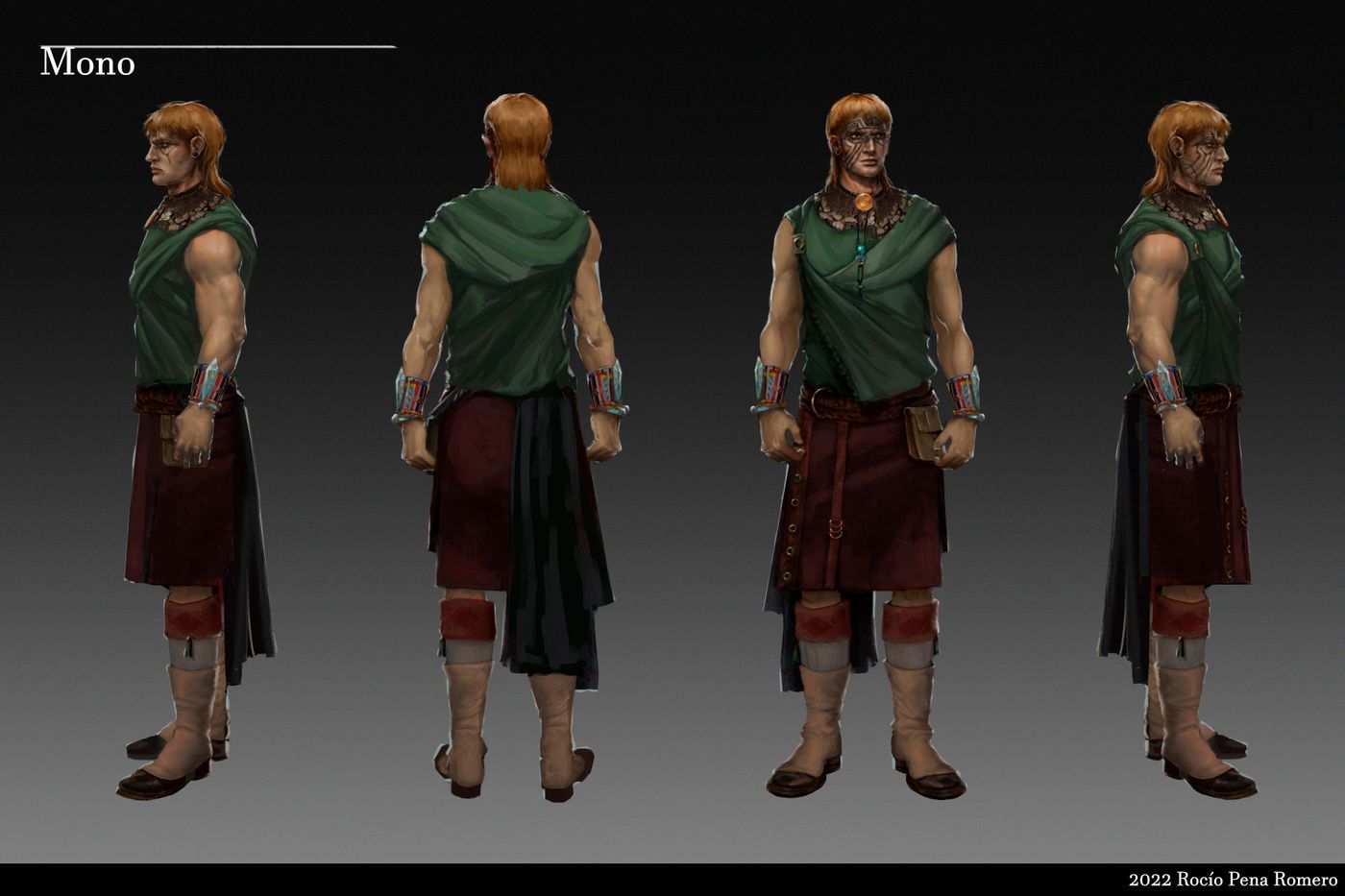 I already knew the quality of the work produced by the Animation Studio that founded it and I loved the approach they used during lessons, combining theory, technique and practice, and feedback. It was also of great help being able to see my teacher, Álvaro Jiménez, work in real time during lessons and getting a realistic view of the opportunities in the area in my home country.
How does your education complement your work?
The way I see education in the art field is like a booster; you need to put in the work and interest to grow as an artist either way, but classes help reduce the amount of time to develop your skills or allow you to acquire new ones that might take you a while to discover on your own.
If you are not sure what your work is missing or how to improve faster, it helps having the guidance and feedback of a professional to avoid feeling lost and hopeless in your career.
---
Day in the life
Describe a typical day for you and your team?
My work for the animation project was outside class/homework hours. We would have a group meeting every two weeks approximately and discuss pending tasks and get feedback from our art director, Alejandra Luque. This way, we would all have work assigned to us or taken voluntarily and a set deadline for the next meeting.
For the Project-R demo, it was a bit different. Every day I would discuss a new part of the project that needed to be designed with the CEO, and we would prioritise different aspects to make sure the 3D sculptors had material to work with comfortably. Since it was a completely new project, I was guided on a basic aesthetic for the design and worked with variations and iterations of the same design once it was deemed fitting.
We were a small team, so I also helped with some of the graphic designs such as icons and UI elements too. I learned a lot about communicating effectively with simplified forms.
What third-party and proprietary tools do you use on a daily basis?
I personally use Adobe Photoshop for illustration and photo-manipulation, and Clip Studio Paint for perspective aid. Having some knowledge of 3D software is useful too.
For equipment, I have a small Wacom Intuos at home that works great for me right now, but I have used a Wacom Cintiq at class and I think any tablets that incorporate display as you draw might help a lot if you are more used to traditional media like I was.
What does your workflow look like?
For all projects, I like to work with a limited reference board, so I give myself a set time to gather images as inspiration and then move on to initial sketches.
Both during schoolwork and the demo development, we would produce some iterations and get feedback from everyone in the group to get first impressions.
Once an option is decided upon, I explore different colour palette options and lighting. I like to get as much feedback as possible on all the steps before committing to a final rendering, as it can be quite time-consuming depending on the painting style of the project. To get a quick base and some texturing before rendering, photo-bashing works wonders too!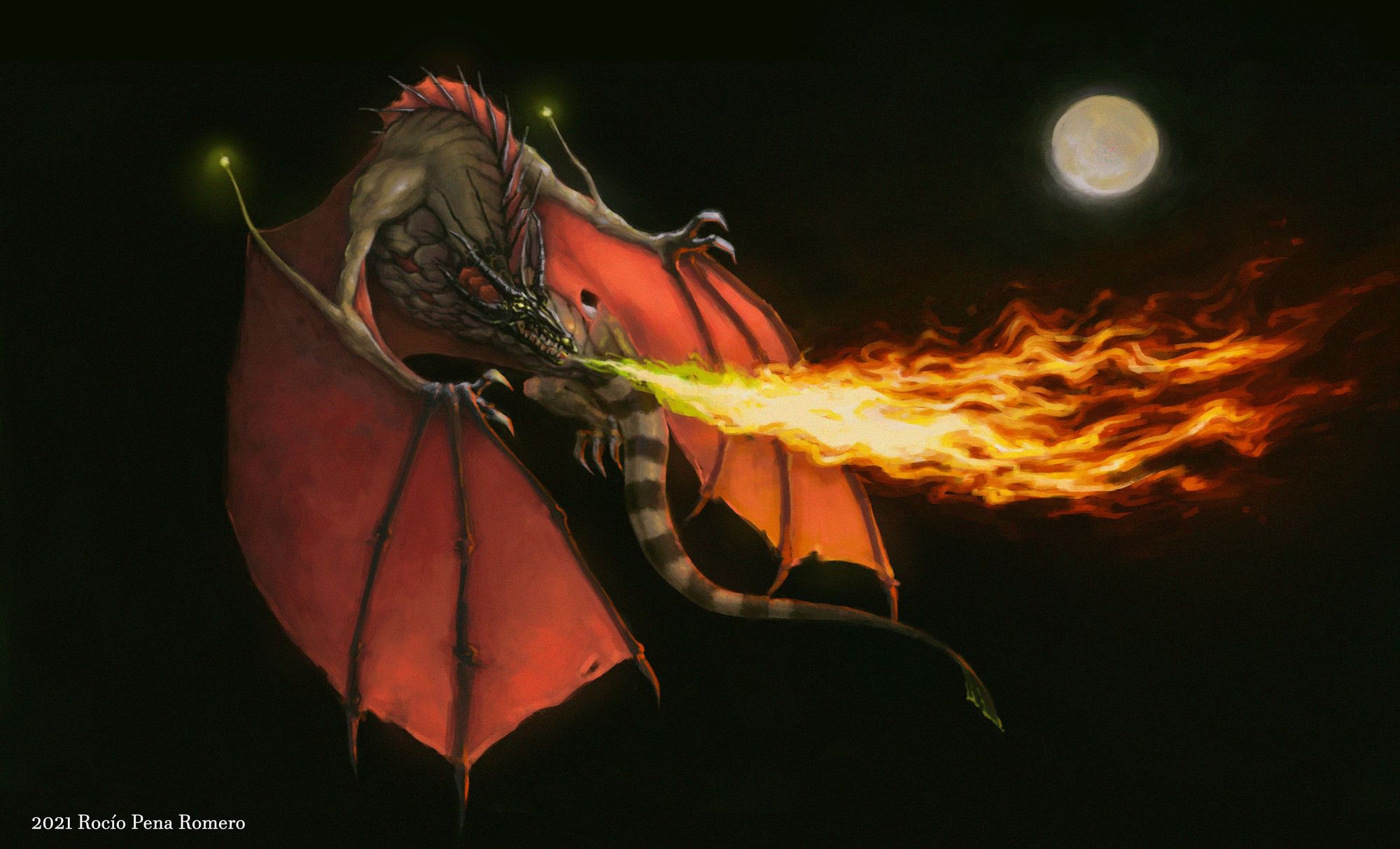 Which departments and key people do you work closely with?
All projects benefit enormously from having a well thought-out story and world-building, as well as a clear idea of the general aesthetic that is desired. Usually, the prompts given by the story-board artists / writers and the art director are crucial to that.
For projects that involve 3D modelling, it is particularly important keeping in mind what parts might be overlapping during movement or can be troublesome during play-throughs later on.
Are there any industry trends that are changing the nature of your role?
I'd say recruiters are looking for more complete concept artists that can produce both professional designs in 2D and render them in 3D software effectively.
One thing you'd never change about your job.
Constantly learning about obscure topics and having to be open-minded to differences in time, culture, and customs in order to enrich my work, is something I really enjoy. Just having the chance to draw daily is a great joy for me.
But one thing you wouldn't mind seeing changed is?
I think the industry could see a great improvement if some of the entry-level jobs were more accessible. It can be difficult to get into internships or junior jobs without experience and, if you are not enrolled in a school that already has a program that will help you with that, it can take some time to find a paid job on your own.
---
Career Advice
Is formal education essential for someone aspiring to do your job?
I'd say it's honestly a big help. It depends on whether you have previous experience in an artistic field and how fast you want to reach you goals. If you're determined and patient, you can get to a professional level even if you're completely self-taught. Nowadays there's lots of information and resources both online and offline, and some of them are free.
Practicing non-stop is most important to nail down the basics, while having constant feedback and acquiring more complex techniques that allow you to work more efficiently is easier through formal education, as long as the courses focus on practical skills the most.
Why would you recommend your school to others?
Yes, I honestly would. Having professional teachers that can work on a person-to-person basis has helped me greatly to set realistic expectations of my work and keep pushing myself on daily assignments.
The school has also organised numerous competitions, talks delivered by industry pros, and social/cultural activities that have helped me get to know people in the industry and my classmates, as well as to keep myself motivated and focused on my artistic journey. It's also especially helpful if, like me, you don't have any contacts in the field and need an extra push to know how to handle social media and build a cohesive portfolio.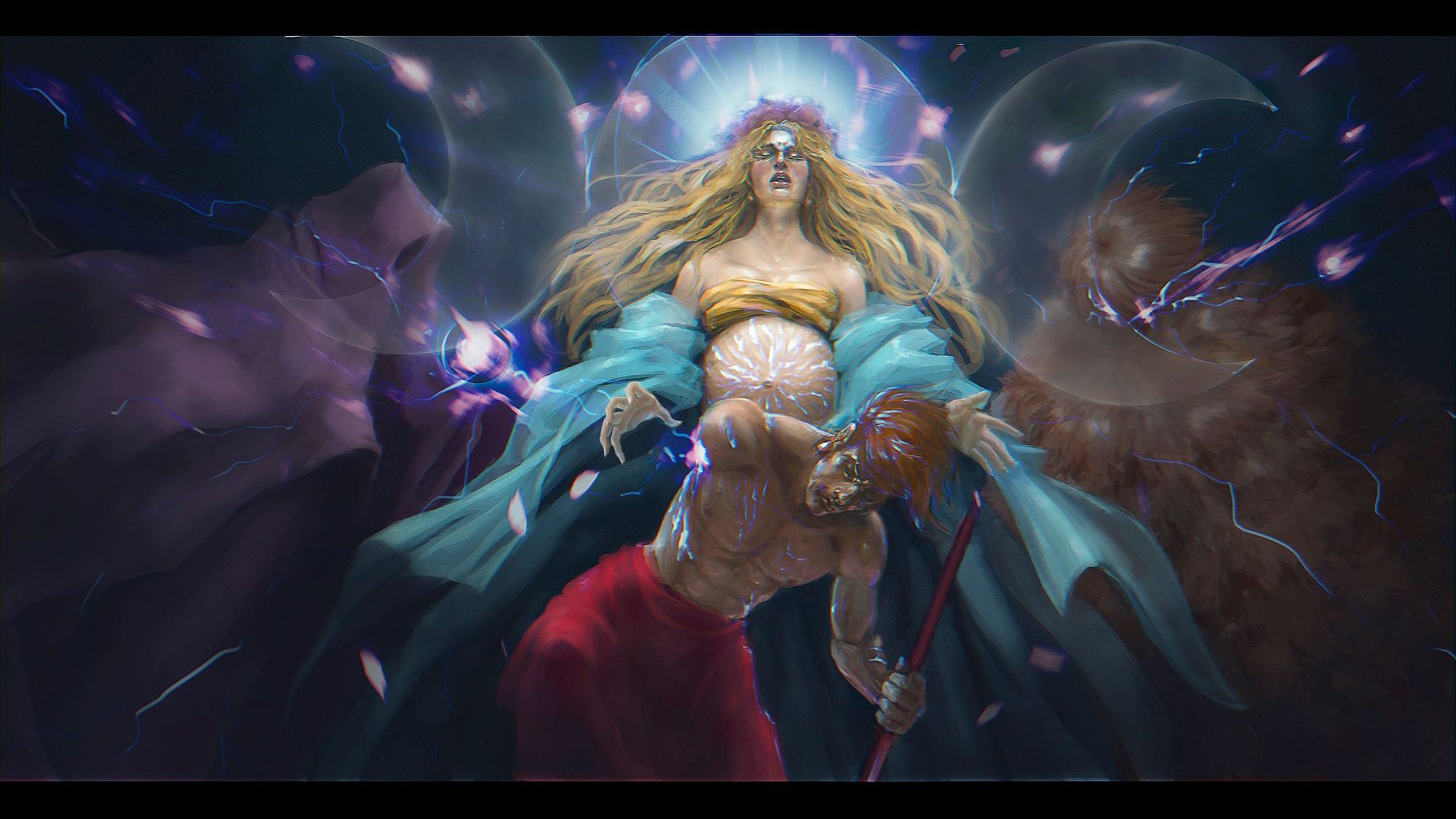 What do you wish you knew about the industry before you started?
It's a small but constantly growing and evolving world. You need to keep up with the new content that comes out but also have some general knowledge of classics and staple works.
The more open-minded and curious you are about the world, the more diverse your work can become, and that's a huge advantage!
Alternatively, some genres in entertainment can be a bit niche, but that gives you the chance to specialise in something you really love and are passionate about.
If you could give one piece of advice to artists trying to get a job, what would it be?
Don't give up if nothing seems to work at first try. Ask for feedback even when you are being rejected and continue to be active. Putting your work out on social media will make you keep improving and will send the message that you take your passion seriously.
What tasks would you be typically asked to do as a junior artist?
It depends a lot on the work hierarchy where you work! An indie studio with a small team may give you the opportunity to take on more responsibility and allow for more liberty on artistic choices and decisions that impact directly on the final project. That usually involves more exploration and design iterations until the visual portion of the project goes hand on hand with the vision the producers might have in mind.
In a more established environment where you need to work with a bigger team, you usually support more experienced colleagues and help deliver more specific and detailed designs that fall under the direction of an art lead. You can grow and learn a lot in both ways.
What skills do you think recruiters are looking for when hiring an artist?
What I hear the most from recruiters is that they look for someone that has an interest in the industry and the project, not just meet the skill requirements. Someone hardworking that can take positive feedback well and can work well with other people.
What skills seem to be missing all too often?
I'd say, for me, it's still a bit difficult to speak up when giving or receiving feedback. It can come off sounding harsh for some people, even if no harm is intended! I try my best to be uplifting about my work and others', since I know all the work that goes into developing any piece of concept art. So, keeping that in mind helps me not take things personally but as a meaning of artistic growth, and to keep pushing forward.
Describe your attitude towards your job?
It's a love-love relationship. Even when I feel frustrated with what I'm working on and nothing seems to be turning the way it's supposed to, I try to remember how much art has always made me happy and I focus on that feeling while working. I immediately feel grateful that I have a job that makes me feel at peace with myself, even if it means having to fight hard to deliver good quality.
Where do you get your inspiration from and how do you implement it into your work?
All the media I consume is a constant source of inspiration. From the movies I would obsess over when I was a child, to the content you mindlessly browse on social media, or the latest series you binge watch on any streaming platform.Cultural experiences such as travelling during your holidays or visiting museums on days off, like we did at my school, can be enriching too. I think the key is to analyse what makes that subject special or meaningful to you and try to imitate that in your work. To do that, you can incorporate themes, motifs, patterns… I like to make my own sketches trying to capture that essence as best as I can.
Describe a project brief that you'd recommend artists create for their portfolio?
Spend some time creating a world from scratch. Think of a decent story, any genre you like, and develop the whole universe you'd like to see if you were to consume that product. One that never fails is the "hero's journey" or the monomyth, but there are hundreds of archetypal plots and tropes that can help with story building once you give it your own spin.
What mistakes do you see artists making when applying for jobs?
From experience, apply to anything that you think might fit your profile, even if you don't fulfil all the requirements. It's also useful to bother writing motivation letters and sending your portfolio/CV to companies even if there are no spots open for your specific area at the moment!
If you could give one piece of advice to artists starting out, what would it be?
Be prepared to be patient and stubborn. Learn to take constructive criticism gracefully and humbly, and ignore all other unwanted opinions. For me, what helps is keeping the focus on the joy of the process and not to obsess over immediate results.
If you could go back in time to when you first started out, what advice would you give yourself?
Believe in yourself and focus on the improvement and you will see results when you least expect it.
---
You can find Rocío on The Rookies, ArtStation, Instagram and LinkedIn.