Welcome to the private launch of Certified Digital Artist. If you are here, it means that you have been given an Express Pass and 50% Discount. Please follow these steps below to apply for a Digital Artist Certification.
1.  Purchase a voucher
This voucher will allow you to apply for a Certification of your choice.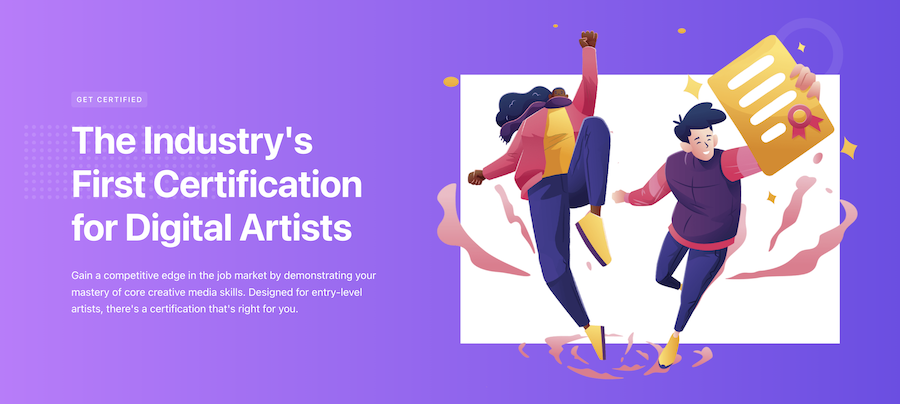 Express Pass Voucher
US$126
This product includes one voucher for a Certified Digital Artist application with our official review partner The Rookies.
Buy Now
---
2. Complete Industry Application Form
Your voucher will allow you to apply for a single job associated with the industry you nominate. Choose an industry link from below to start your application.
---
3. Review Process
Once you complete your application, it will be reviewed by our panel. This will take between 5-10 days to complete. At this point, the panel will decide whether you have demonstrated the right industry level skills and competencies to unlock the Certified Digital Artist accreditation.
That's all there is to it!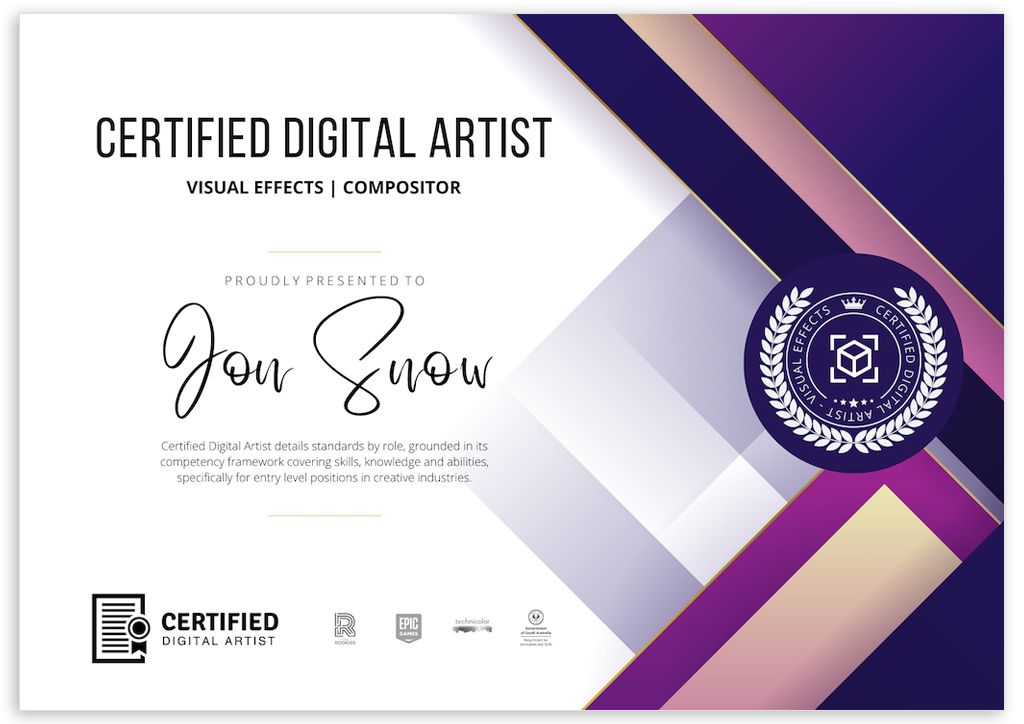 ---
Benefits
Receive an official Certificate of Achievement
Receive a blockchain Credly badge (coming soon)
Introduced to our Private Recruitment Network of top studios
Gain a competitive edge in the job market
Improve your resume and level up your LinkedIn profiles
Stand out in the crowd when applying jobs
Build confidence and validate your own skills and competencies
---
Frequent Questions
What do I upload to prove my skills and competencies?
During the application process, you will be required to share a link to your digital portfolio. Your work can be hosted anywhere, but we do recommend using The Rookies, especially if you have entered the Rookie Awards. There is helpful industry based feedback already associated with these accounts and the format works especially well for allowing pros to access your work.
How do I prove my digital artist skills?
For each of the disciplines that are available for Certification, there is Entry Level Skills & Capabilities section. This lists all the skills that you need to demonstrate in your online art portfolio, or the supporting media that you upload as part of your application.
How long does it take to review my application?
Applications take between 5-10 working days to be reviewed.
Who reviews my application?
All applications are reviewed by multiple industry experts that have worked professionally for over 12 years. To see the calibre of reviewers, please check out partners as a guide to people that support the CDA accreditation.
Can I request a re-evaluation of my application?
No, we must ensure that candidates who earn our certifications have demonstrated the required proficiency level, the final result of a certification process cannot be changed.
How long is Certification valid?
Certification is valid for 3 years from your certification date. To maintain your status after 3 years, you must reapply to make sure your skills are still relevant to industry standards.
If I fail my application, can I apply again?
Yes, you are eligible to apply for certification at any time.

---